Meal plans personalised 100% for you. What's your goal?
Good nutrition is the key to long-term results. Our meal plans are:
Individual
Food intolerance and allergy-friendly meal plans customised for you
Scientific
Developed by nutrition experts – Recommended by athletes
Efficient
Busy schedule? Save time with the pre-cook function & smart shopping lists
Educational
Have questions? We're happy to help. Contact our nutrition experts 24/7 via the live-chat
Inspiring
Over 10,000 simple and varied recipes inspire you with new ideas every day
Flexible
Don't like a recipe? No problem – Choose from three alternatives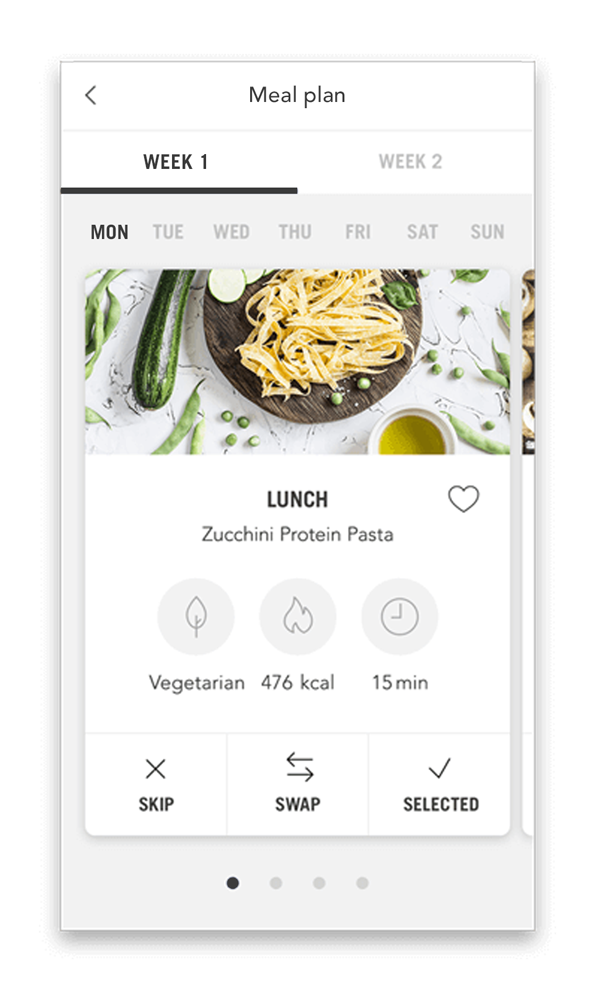 Your personalised meal plan - As individual as you and your goal
Developed by nutrition experts– Personalized for you
Optimal micro and macronutrient ratios to reach your goals
Swap out ingredients or meals you don't like for your favourite alternatives
Save your favourite recipes for future meal alternatives
Plans change? Going out to eat with friends? Just skip the meal and we'll remove the associated foods from your shopping list!
Choose how often you snack between meals
Track your plan on your computer, tablet, or smartphone; or print your weekly shopping lists and recipes
Your meal plan - practical, efficient & inspiring
More than 10,000 flavourful and inspiring recipes
Save time in the supermarket with smart shopping lists – without annoying calorie counting
No time to cook dinner? Special meal plans for busy professionals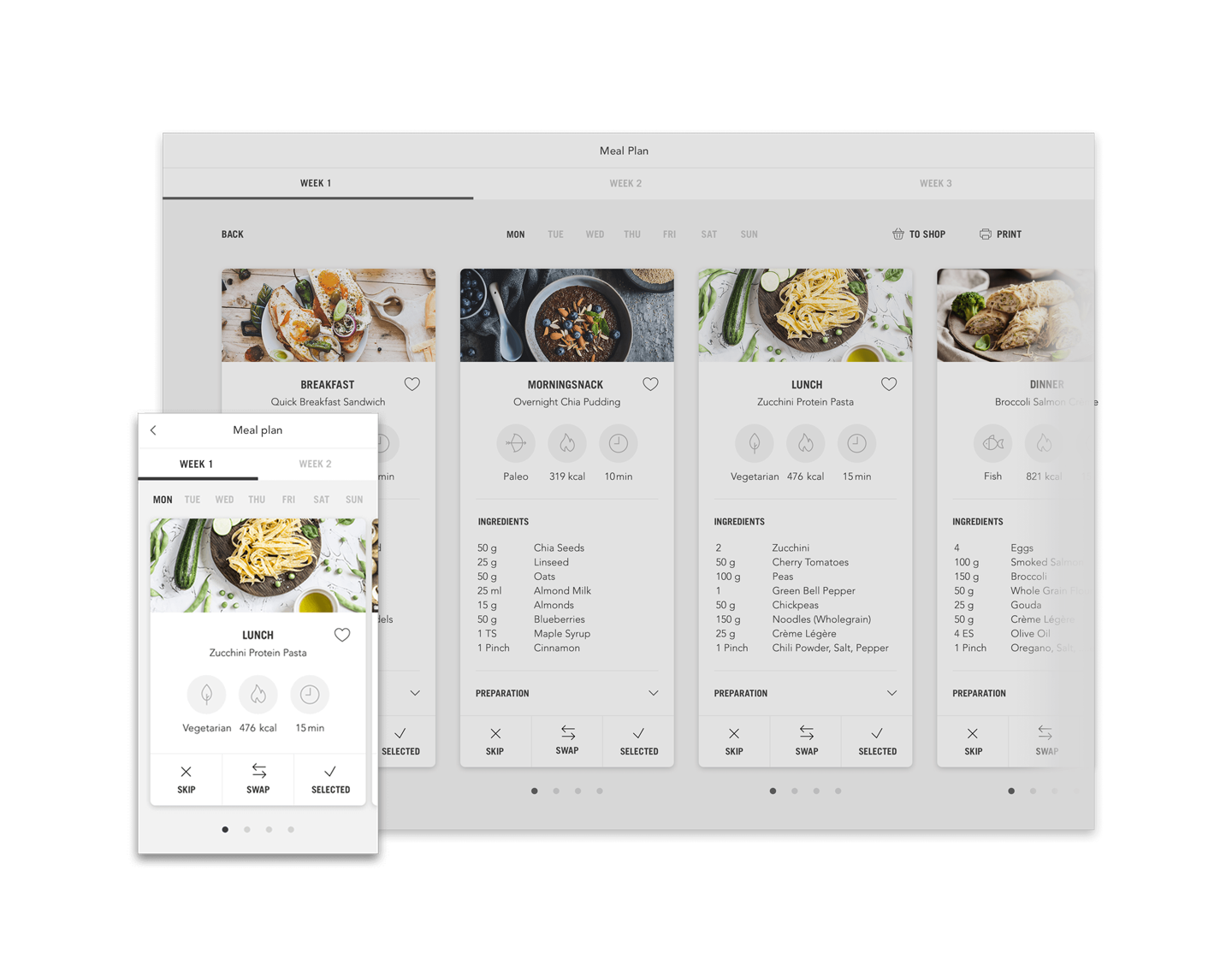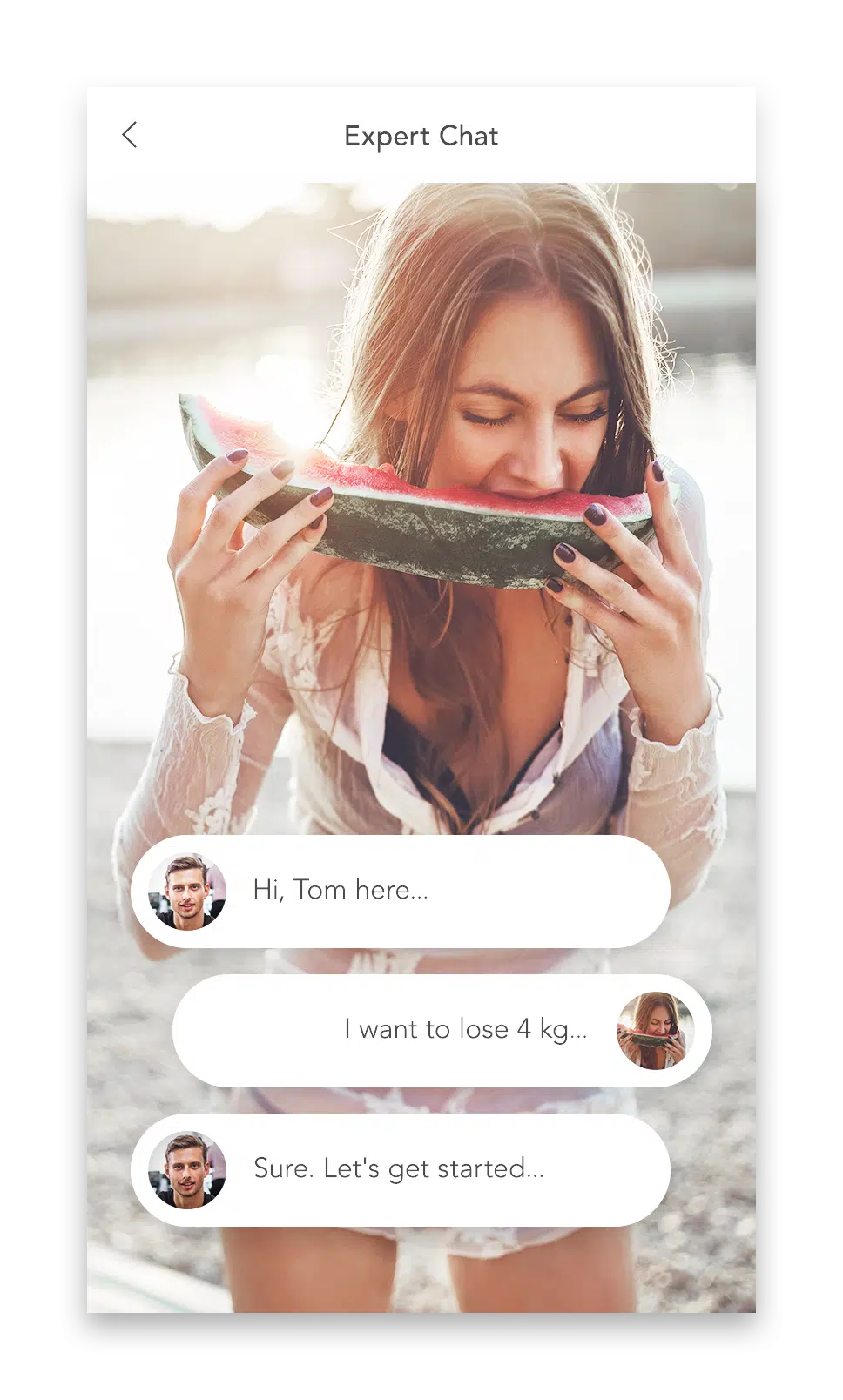 Don't just follow your meal plan - actually understand what your body needs
Ask our experts questions anytime in the live-chat
Follow your nutritional plan – become a nutrition expert yourself
Say goodbye to the yo-yo effect and say hello to sustainable weight loss
Optimize your health, wellbeing, and happiness with personalised nutrition
Get inspired with Cerascreen - Upfit International success stories
Increase your energy levels – boost your immune system and self-esteem
Optimise your training with smart training plans
Cerascreen Meal plan – The body you wish for is just around the corner
Do you finally want to get in shape? Most diets are restrictive and in the long-run unsuccessful. In order to reach your goal, it's important you make sustainable changes to your diet. Nourish your body with a diet which provides you with all the important nutrients, is based on healthy food and lets you enjoy food rather than forcing you to make sacrifices.
Cerascreen meal plans are completely individual to you and are tailored to your requirements, meaning you won't just reach achieve goal, but maintain it in the long-run. Our plans are suitable for the everyday, family and work life. No extreme dieting, no monotonous dishes!
Vegetarian, paleo, vegan, flexitarian? Our nutrition plans don't just adapt to meet your dietary preferences but also consider your allergies and intolerances. You can also decide yourself when and how often you would like to cook and which foods you would like to exclude. A huge variety of recipes which change daily ensures that your nutrition plan will never become boring.
Healthy, delicious, individual: Get your personalised meal plan and start reaching your goal now
Sample meals from your meal plan
In cooperation with Upfit
All meal plans are created in close cooperation with Upfit's nutritionists and health experts and are continually developed according to the latest scientific findings.